How do I now how much water a plant needs?
Every plant has its needs...
The amount of water you have to give a plant is different for each plant. In our shop, we sell plants from different plant families. Within these families, the needs of the plant are mostly similar.
n
Below you will find an overview of our plants and their water needs so that you can base your decision on this. The easiest plant family is Dragon's Blood trees. Have you bought a plant before and want to refresh your memory? Then you can also consult the care tips in your account.
n
The members of the Croton family: Petra, Tamara and Mrs. Iceton all need small amounts of water on a regular basis. The soil of the plant has to dry up again (dry to slightly moist) before the plant needs to be watered again.
n
The Dracaena Janet Lind, Marginata and Warneckei belong to the Dragon's Blood tree family. All three plants with little need for water. Here too, you can water the plants when the soil has dried up. In winter, this can even take four to six weeks.
n
Like cacti and succulents, the Elephant's Foot is able to store water. As you can clearly see, the plant has a water storage at the bottom of the trunk. This plant grows steadily without needing much water!
n
When you have different types of plants in your home, all with their own needs, it is sometimes difficult to remember which plant to water when. Don't want to worry about the water requirement of your plant? You can also order our plants in combination with beautiful pots that have an integrated water reservoir.
n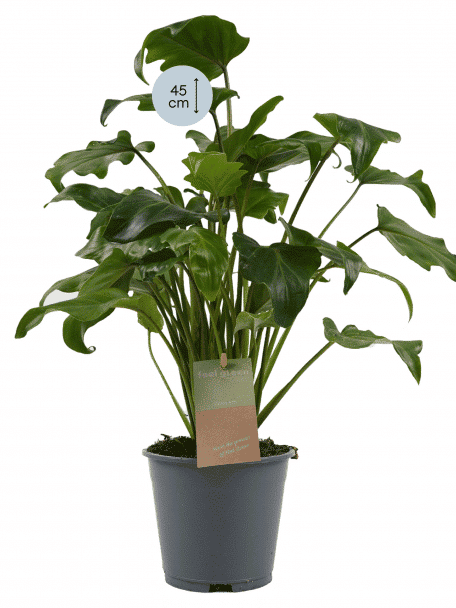 The Philodendron is easy to maintain. It requires little water - is even sensitive to a lot of water - and does well in less sunlight. The Philodendron Xanadu is the slightly lesser-known sister of the Monstera from the Arum family and has beautiful, strong green leaves. It is striking that this Philodendron does not develop aerial roots and therefore does not climb. When the plant loses its leaves, a pattern appears on the trunks that is reminiscent of a giraffe's neck.