How does the Blumat irrigation work?
Blumat is an irrigation system that works without a power supply. The system has been developed in such a way that you only need a water reservoir – this can be, for example, a glass filled with water. The plant does the rest!
About the Blumat system
The most important part of the Blumat system is the ceramic cone that is filled with water and inserted into the pot near the clod of the plant. When the clod dries out, under pressure is created in the cone. As this happens, water is both released to the plant and the cone refills with water from the reservoir. When the negative pressure has disappeared, the water supply stops. In this way the plant water itself. Also the right amount.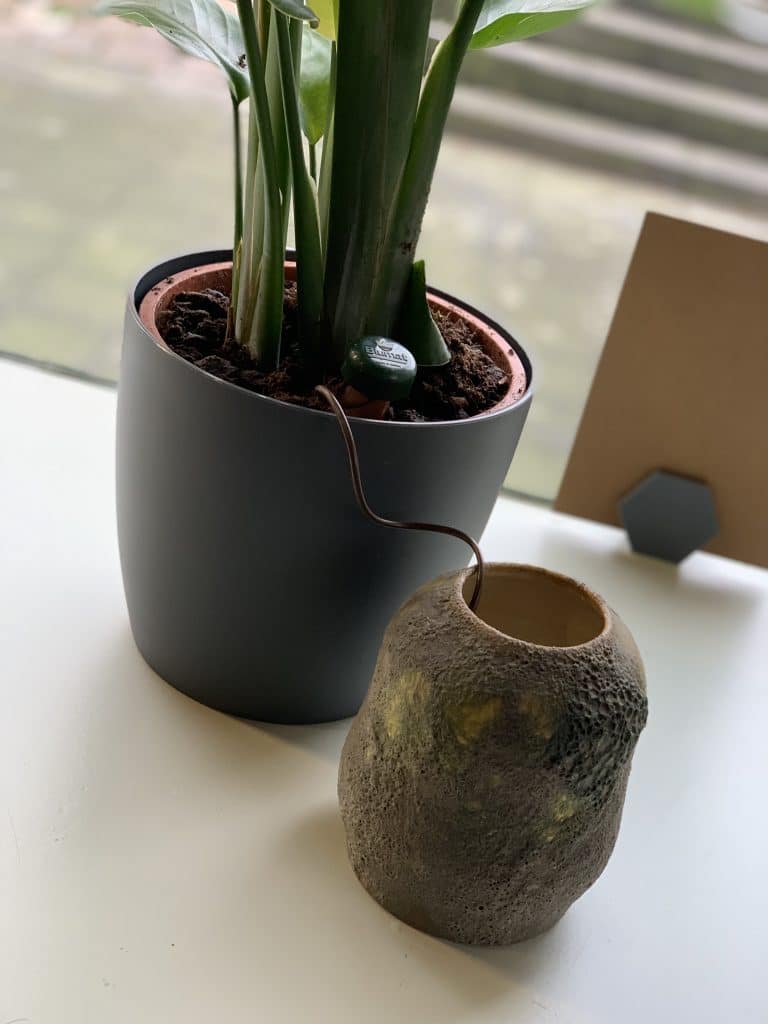 Instructions
Step 1: pull the green cap from the cone and put it in water for 15 minutes
Step 2: fill the Blumat with water up to the brim
Step 3: press the green cap back on
Step 4: stick the Blumat into the soil close to the clod of the plant – use 2 pieces for larger planters or place a Blumat every 15-20 centimetres
Step 5: Place the hose in a full water tank – note it must be on the bottom of the tank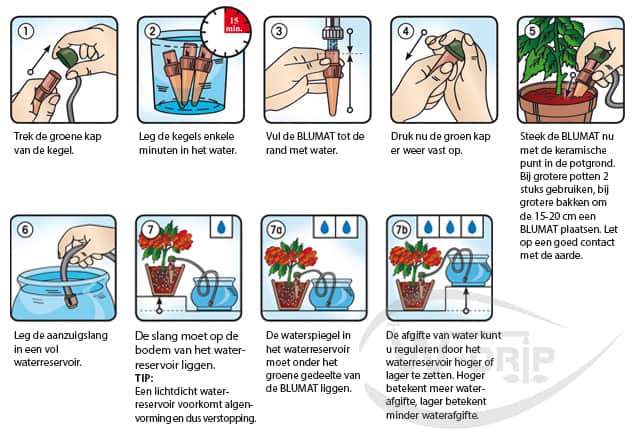 Tips
A light-tight water reservoir ensures that no algae formation takes place. This is beneficial, as it can sometimes cause a blockage.
The water output can be influenced by raising or lowering the water tank. Higher results in more water release, lower in less.
Source: Blumat.nl

Blisterpack Blumat Classic 1 stuk
De Blumat uitbreidingsset maakt het mogelijk om zelf een irrigatiesysteem aan te leggen. Ook als je nog geen Blumat producten in huis hebt kun je prima met deze eenvoudige set aan de slag. Begin zelf met een waterreservoir waar je het begin van de slang in plaatst. Zorg dat deze op gelijke hoogte staat met je planten voor een normale wateraanvoer. Wil je liever wat meer water geven plaats het reservoir dan hoger.
Tip: Kies bij voorkeur voor een ondoorzichtig  reservoir, dit zorgt namelijk voor minder algenvorming in het water.



Uitbreidingsset Tropf Blumat 10 m
€0,45 – €7,95
Met deze Blumat aanvoerslang kun je gemakkelijk meerdere sensoren aansluiten om zo je eigen irrigatiesysteem aan te leggen.



Aanvoerslang Blumat Zwart 10 m
€7,95

see products