What are suitable plants for your tree pit?
What does your ideal tree mirror garden look like? What are you going to do? Sow flowers, plant bulbs, use cuttings from your own garden. Dare to experiment! And remember: it doesn't have to be perfect all at once. You can further plant your tree mirror garden every season.
When planting a tree mirror, it is good to pay attention to which type of plants are suitable for this. An important aspect, for example, is that the roots of these plants do not need too much space. In addition, in some cases it can also be inconvenient if the plants in the tree mirror become too high and cause nuisance on the street or parking spaces.
In addition, most tree pits are also dry and shady. So it is a difficult place for plants. Plants will grow the first year, after that they will have a more difficult time. Keep that in mind and choose plants that can withstand these kinds of conditions! This way you get a garden that continues to grow nicely. Choose plants that can withstand shade, have shallow roots and need little water.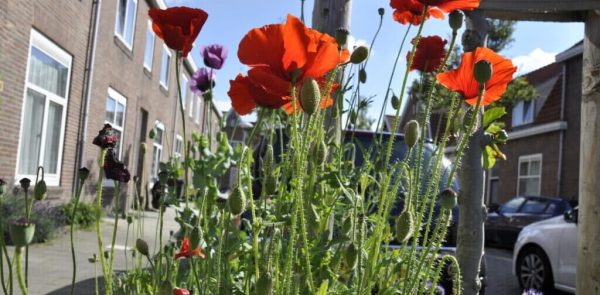 Biennial plants and perennial plants
Biennials and perennials take two or more years to flower. Biennials flower in their second year. You can also perfectly sow biennials in autumn; they will flower the following year. Perennials take longer to flower.
After forming the seeds, the plants die. Sow the seeds for another round. Vervain (native), Snakewort (native), Foxglove (native) Musk Mallow (native) are well-known biennials. Yarrow (native) is a perennial species.
Solid plants come back on their own every year. Nice and easy in your tree pit garden! The only thing you may have to do over time is split the plant because it takes up too much space. That way you can make other neighborhood gardeners in your neighborhood happy again.
Most solid plants die back in winter and re-sprout in spring. You also have evergreen varieties, such as the periwinkle (stinsenplant) that keep their green leaves. They grow to their adult size in a few years. Many solid plants die back in the fall only to peep above the ground again in the spring. The native bellflower (Campanula poscharskyana) is also very suitable in the tree pit and available at marvy green.
Bulbs do well in your tree pit garden. Spring-flowering bulbs such as tulips, daffodils, blue grapes and hyacinths are planted in the autumn, from September to December, before the first frost. Crocuses and daffodils do great in a tree pit garden. But you can also plant bulbs that bloom in other seasons. Guerilla Gardeners made a list of bulbs so there's always something blooming in your tree pit; list 'flower bulbs for a year'. Next spring will surely be a party in your tree pit!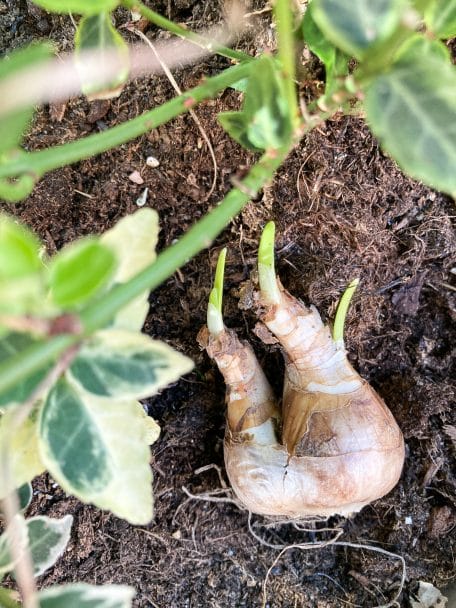 Are you the woman/man with a plan? These organic Daffodils are 'in green', which means that they have already sprouted....